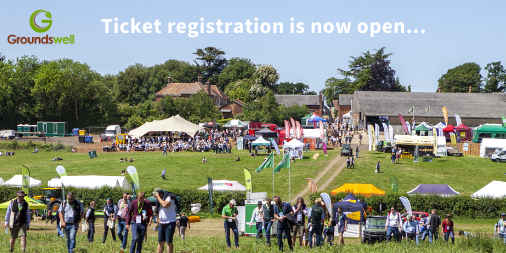 We are incredibly excited to announce the launch of Groundswell 2021 tickets which are now on sale through Red Box Tickets.
We have been cautious and awaited confirmation from the local council and gained all the confidence we can muster from central government for the green light for such an important Groundswell this June. The new site layout has now had two year's in the making and with all structures able to operate with open sides we can present sessions in a safe environment. The main Groundswell Sessions and Demonstrations start at 10am on Wednesday 23rd June and finish on Thursday 24th at 6pm. Tickets are £60 for a single day or £95 for Both Days (+VAT)
Travel, Accommodation & Food
The Earthworm Arms Bar and accompanying array of street food traders will be operating the nights of 22nd, 23rd and 24th for those coming from afar.
We're excited to be offering the popular Groundswell Campsite once again for 2021. We'll be opening the campsite on Tuesday 22nd June at 4pm, Camping Passes are £10 (+VAT) per person.
You can choose to either reserve your glamping spot with the Woodville Project or bring your own tent – both options will be available when buying your ticket. More info on getting to Groundswell and accommodation options are listed here.