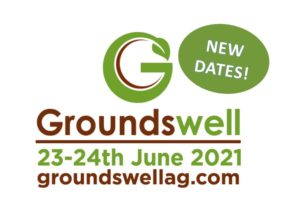 Dear Friends of Groundswell, 
Following appropriate government advice we have decided to postpone Groundswell 2020 until the 23rd and 24th June 2021. We waited until the last possible moment in the hope that we could at least have made a scaled down event happen this year, but this is now sadly impossible.  
We had hoped that our fifth show would be a year to remember, especially as we have put a lot of thought and effort into the new site. Wherever possible we will transfer our existing plans to the 2021 show and make use of the break this year to ensure that the new site layout is perfected for future Groundswell Shows.  
All existing ticket holders will automatically be refunded in full. 
We will be publishing many of the planned sessions on the Groundswell YouTube Channel (free to access) throughout the year but the physical show and conference will not be happening this June. 
You can stay in contact with Groundswell Exhibitors by finding them on the Exhibitor List. 
We are proud to work with such a great network of inspired people and organisations who support regenerative agriculture, especially in such challenging times. We can only hope that the movement towards more integrated and resilient farming systems will be strengthened by this crisis and that the need for industry-wide collaboration will be more vital than ever.
We will be contacting Speakers, Exhibitors and Ticket Holders directly and we kindly ask for your patience whilst we deal with all of the administration involved in the postponement, if you have any pressing questions please email contact@groundswellag.com. 
Wishing health and harmony in these difficult times, 
The Groundswell Team