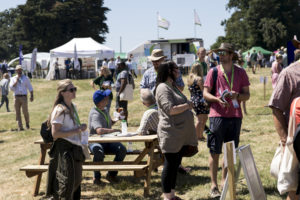 Groundswell 2023 FAQs
➜ IS THERE A CAR SHARING SCHEME?
Yes, use the TFF Thread here.
➜ WHAT TIME CAN I ARRIVE TO CAMP?
The Campsite is open from 4pm on Tuesday 27th June. 
➜ WHEN IS THE EARTHWORM ARMS BAR OPEN AND FOOD AVAILABLE?
Tuesday 27th (set up day) – 4pm till late
Wednesday 27th – 8am till late
Thursday 28th – 8am to late
Food traders will also be operating all day and evenings througout the show. 
Also, check out the SSAW Collective Banquets taking place on Tuesday and Wednesday evenings. 
➜ IS THERE A STUDENT AND YOUNG FARMERS TICKET DISCOUNT?
Yes, 20% – need to bring NUS card or YF membership 
➜ IS THERE DISABLED ACCESS?
The showground is on a working farm but there are no steep inclines and there are disabled toilet facilities available. 
You can hire Mobility Scooters and Wheelchairs at Groundswell through Event Mobility
➜ CAN UNDER 18 YEAR OLDS ATTEND WITHOUT AN ADULT?
Yes, Under 18s are welcome and subject to a 20% discount. 
➜ CAN I BRING MY DOG?
Dogs (except Guide Dogs) are not encouraged to attend but will be allowed in if they have a holistic mindset.  
➜ CAN I LEAVE MY DOG IN MY CAR IN THE CAR PARK?
No. Dogs should not be left unattended in the carpark.
➜ CAN I CAMP IN THE CAR PARK?
No. You have to camp in the camping area which is subject to a £20+VAT pitch fee per person (covers three nights 27th to 30th). There is a campervan parking area next to the campsite. 
➜ CAN I PARK BESIDE MY TENT?
No cars are allowed in the camping area.
➜ CAN I DRIVE ONTO THE CAMPSITE TO DROP OFF MY STUFF?
No, you must park in the car park and walk into the campsite which is adjacent to the car park. A camping pass wristband is required for access into the camping area.
➜ CAN I LIGHT A FIRE IN THE CAMP SITE?
No but camping stoves are acceptable.
➜ AM I ALLOWED TO LEAVE AND RE-ENTER THE SITE?
Yes. Just make sure you have your lanyard (for showground) and wristband (for camping area)
➜ WHAT IF THE WEATHER IS BAD?
We have marquees and other forms of shelter for most sessions. Bring waterproofs and warm clothes for the evening.
➜ WHAT ARE THE PARKING ARRANGEMENTS?
Visitors park in the Main Car Park. Exhibitors have two separate car parks which are accessible from the exhibitor entrance. 
➜ WHAT ARE THE CAMPING ARRANGEMENTS?
At the campsite there will be showers and loos in the camping field itself. There is no electric hook-up for caravans/campervans. Camping Pitch Fee of £20+VAT per person can be purchased with your ticket. 
➜ WHAT WILL COST ME MONEY ON THE DAY?
Food and Drink from the independent food and drink traders. Drinking water taps are located around the site
➜ ARE THERE PHONE CHARGING FACILITIES?
Yes, at the Customer Services/Info Tent.
➜ IS THERE A LEFT LUGGAGE SERVICE?
At the Customer Services/Info Tent
➜ WHERE IS LOST PROPERTY?
At the Customer Services/Info Tent