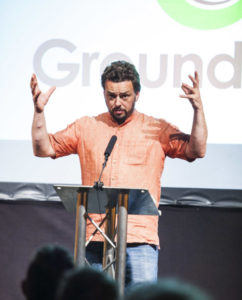 Why Food for Thought at Groundswell?
Many farmers are dispirited by the current market-model in this country whereby wheat is mainly grown for feeding animals who could be eating grass whilst consumers are buying increasingly varied ingredients (spelt, lentils, rye) which are mostly grown abroad.
So this year we are launching a 'Food for Thought' thread: we want to address this disconnect between the food we grow and those who sell and eat it. In an age of dietary revolution, with more books being sold on how and what to eat than on any other subject, it is timely for Groundswell to join up the growers with the eaters.
To this end we have created panels of policy makers, nutritionists, growers, and market innovators to start important conversations about the future of feeding the nation.
So this will be for those who want a say in how and what is grown for us to eat. For those at each end of the divide who want to make connections.
If you are keen to be involved, please contact us at contact@groundswellag.com or 01462 790 219