Many of the things we need from the countryside depend upon good soil health.  We need to produce food, and at the same time good management can also ensure that we also produce other things too like biodiversity, carbon storage and flood and drought risk mitigation.  Conservation agriculture and its focus on soil health can help to deliver more than food from our lands.
How can healthy soils reduce flooding? Good soil structure will help open up soil pores and air spaces to allow water to infiltrate in to the soil when it rains.  Increased infiltration, improved structure and organic matter will help to store water in the soil for crops and other life to use over time, which is particularly important during periods of low rainfall.  This water storage helps to reduce surface runoff, which can cause flooding.  When soils are saturated, management that creates rough surfaces will help to slow the flow of water as it moves overland, offering opportunities to infiltration in other areas or simply just to reduce peak flows downstream.
So, how can we manage the land to deliver healthy soils?  If we think about our soils like a bucket, what can we do to make the bucket larger and stop it from filling up? There are many different types of soil, many different climates and many different farming systems.  What works in one area might not in another.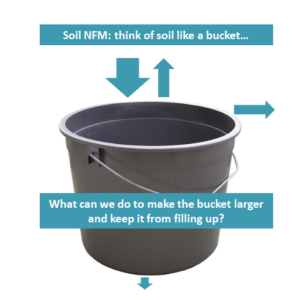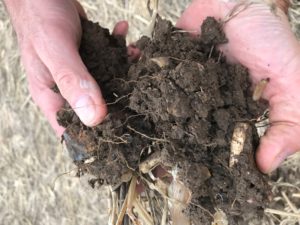 We have come to Groundswell 2019 because we want to listen and learn from your practical experiences of conservation agriculture in your area.  What have works on your farm with your soils? Have you noticed areas with good infiltration, and areas where crops still grow well in dry periods?
What is Natural Flood Management?
Soil use and management is one of many options available from Natural Flood Management (NFM).  NFM addresses flood risk by protecting, restoring and emulating the natural functions of soils, catchments and rivers by storing and slowing the flow of water.  NFM can provide environmentally sensitive approaches to minimising flood risk, to reduce flood risk in areas where hard flood defences are not feasible or cost-effective, and to increase the lifespan of existing hard defences.  There is growing interest in integrating NFM within agri-environment schemes and flood risk management schemes, so NFM is an opportunity for farm diversification.
What is the Natural Flood Management Research Programme
This is a four year £4m programme funded by the Natural Environment Research Council (NERC), part of UK Research and Innovation which is sponsored by the Department for Business, Energy and Industrial Strategy. The NFM programme consists of three projects: Landwise, Protect NFM and Q-NFM.  These are being carried out in geographically different locations and environments with correspondingly different approaches.  Each project has been co-developed with local stakeholders, including farmers, landowners and farm advisors.  The research involves cases studies, making measurements in the field and computer simulation modelling.
How can you help?
Sharing knowledge is critical to the success of our research programme.  Researchers bring technical skills, but we need guidance and support from people on the ground with practical knowledge of what works and what doesn't to ensure the research is useful and relevant.
Please visit us at Stand B10 for a chat.  We're looking forward to meeting you!
Gerard Stewart
NFM Programme Communications Coordinator, University of Reading
Joanna Clark
Landwise Project Principle Investigator, Associate Professor, University of Reading
Please also visit us online to take part in our national survey of farmer knowledge. https://research.reading.ac.uk/nerc-nfm/blog/blog-groundswell2019/