Could regenerative agriculture hold the answers to our industry's most challenging questions?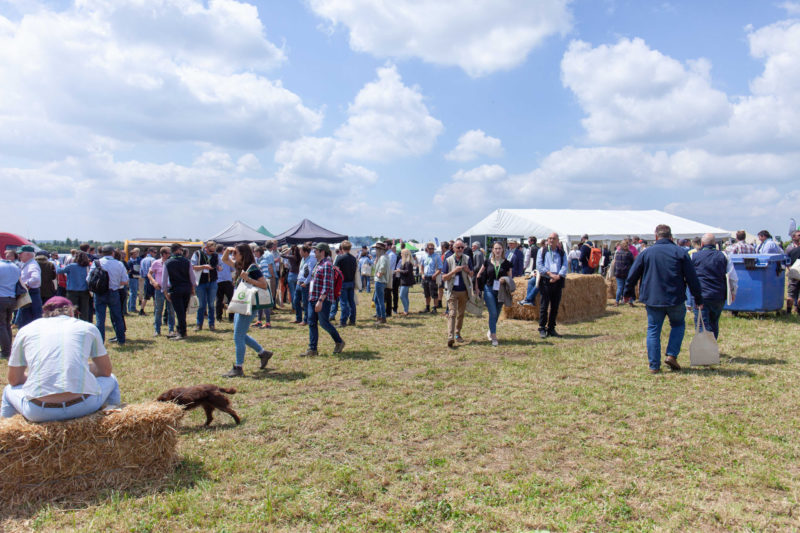 The sell-out Groundswell event, the UK's only/largest regenerative agriculture show attracted over 3,500 visitors. Held at the Cherry's Lannock Manor Farm in Hertfordshire on 23-24 June.
Now in its fifth year, the independent, family-run event is focused on bringing people together to share ideas and practices around the five Principles of Regenerative Agriculture via live demonstrations, seminars, workshops and exhibitions. The exponential growth of the event mirrors the traction no-till farming techniques, soil regeneration and mixed-farming systems are gaining within UK agriculture.
John Cherry, host farmer said: "It's gone ridiculously well. We've achieved our aim and provided a welcoming environment where everyone could exchange experience, knowledge and ideas."
"It's been a pleasure to hear the breadth and depth of discussion taking place on-stage, in the demonstration fields, on exhibitor stands and at picnic benches over a coffee.  Many were tackling the most pertinent questions in farming and yielding practical, actionable ideas on how they could profitably farm in the new environmental and political climate while regenerating our core asset – the soil."
The event's new layout and facilities was designed to give space to enable the organisers to adhere to the latest Government Guidelines on Covid Security.  For visitors the Cherry family introduced two new exhibitor and demonstration fields for visitors to see working direct drills, a wide range of cover crops, herbal leys, composting demos, drones, mob grazing, tree management and, also, sessions like go on a dung beetle safari.
Around the sites were seven open-sided marquees hosting over 100 sessions across the two days, giving attendees the opportunity to hear from a wide range of voices in regenerative agriculture. Some tackled overarching questions such as 'how to make the delivery of public goods attractive?', and 'what is the future of agronomy?' while others explored aspects of holistic farm-management.
On day two the Rt Hon George Eustice, Secretary of State for Defra, was interviewed by Baroness Rosie Boycott on the future of the Environmental Land Management Scheme (ELMS) before the floor was opened for questions from the audience.
Acknowledging the environmental benefits many in the sector are already delivering through regenerative agriculture and other approaches, he provided insight into the mechanisms designed to accelerate sustainability in farming in the near future while touching on a broad range of topics including encouraging new entrants, the planting of trees, increasing carbon capture and achieving net zero.  In the press briefing that followed, Mr Eustice said:
"Our sustainable farming incentive will be all about incentivising and rewarding farmers for a good approach to soil health and increasing the use of green fertilisers, for example.  Unlike the previous systems, there will be a profit margin built in to what we're asking farmers to do for the environment."
Elsewhere speakers were delving into the 'how' of farming with increased crop diversity, less soil disturbance, integration of livestock to maintain living roots and protect the soil surface.  There were sessions covering the next steps to regenerative farming system, rectifying structural issues in soils with roots, using satellites to inform rotational grazing, no-till farming with living mulches, transitioning to pasture fed diary and more.
Alongside the chartered surveyors, soil scientists, entomologists, vets, ecologists, financial investors, agronomists and agrifood businesses in attendance, were farm owners and managers, who took to the stage to share their experiences – both good and bad.
Visitors heard from; John Hawkins and Tim Stephens who are in their third year of their transition on their Dorset farm; Tom Martin a predominantly arable farmer in Cambridgeshire; George Renner the Rutland-based high grade seed producer and Clive Bailye a zero-till arable farmer from Staffordshire with 11 years of experience of zero-till.
"For many reasons we're on the cusp of a new era of farming," explains John Cherry.  "Drivers for change are coming from all directions, not least our own farms. It's been exhilarating to see the positivity and hope coming from both the experienced farmers who are seeing the benefits today and those seeing the potential for the first time."  
If you missed any of the sessions, they will soon be available on Groundswell's YouTube channel. www.youtube.com/c/GroundswellAgriculture