Join the Small Robot Revolution!
by Sam Watson Jones, co-founder and fourth generation farmer, Small Robot Company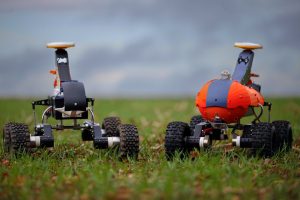 It's been a tremendous year for our small robots. A year ago, I launched our Small Robot concept at an Oxford Farming Conference fringe event. Here, I introduced our Tom, Dick and Harry farming robots to the farming community. I unveiled our Farming as a Service concept, explaining how our no-till robots will farm arable crops autonomously, with no waste.
We met many of you then at Groundwell, where we were looking for farmers to join our Farmer Advisory Group. And we're happy to say that several of you did indeed join. It is vital to ensure that, as we develop our new model for sustainable farming – and a new way of thinking about and managing our farms – that we are, like Groundswell, "by farmers, for farmers".
We have made phenomenal progress. Today, we have three prototype robots, three patents pending, and an AI that can already distinguish Wheat from Weeds. We are now working with 20 farms across the UK, including the Waitrose Leckford Estate farm and The National Trust Wimpole Estate farm.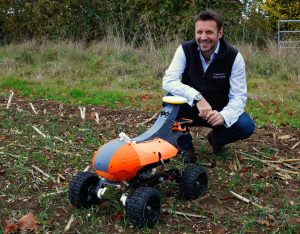 Andrew Hoad, Partner & Head of the Leckford Estate, Waitrose & Partners with Tom monitoring robot prototype
Within minutes of launching our Crowdcube equity crowdfunding campaign just before Christmas, we had already achieved our initial goal of £500,000. This success was overwhelmingly due to backing from the farming community. Now our campaign is gathering momentum to reach our stretch target.
We would like to invite you also to become part of this Small Robot Revolution. With just one week to go, this is the last chance to be involved in our mission to change farming forever.
Much of our thinking has come directly from farmers telling us about the problems they are facing and the things that they think are important. These conversations are at the core of why Small Robot Company exists. I am a farmer, and we will always place solving problems for farmers right at the centre of everything we do.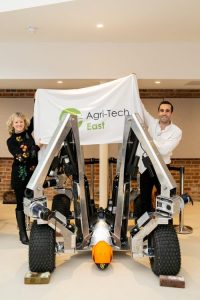 We've been highly successful at getting the message that 'farming needs to change' out into the world, with coverage on BBC News, BBC Farming Today, the Sunday Telegraph, in The Guardian (also republished in the Week), Farmers Weekly, Crop Production Magazine, the Economist and in lots of other places too.
As a result, we've discovered that it is not just farmers who care about farms being more productive and kinder to the environment. People who may never have set foot on a commercial farm have been getting in touch to say that they care about how soil is managed and how crops are grown because they, like us, are worried about how we're going to feed the world in the future. Which is why we have decided to launch our Crowdcube campaign.
Crowdcube is a crowdfunding website which gives anyone the opportunity to own shares in Small Robot Company and to be part of this exciting journey. All shares are priced at the same rate, so you really can come in at whatever level you feel comfortable. I am also legally obliged to mention that investments of this nature carry risks to your capital as well as potential rewards.
With this funding, we will build robust robots for commercial trials across the UK in 2021. This includes our no-till digital planting robot Harry, whose prototype we unveiled at Agritech REAP.
Looking ahead, 2019 will be a great year to be a farmer. The digital revolution is gaining pace, and within five years will be mainstream at scale. Small is for the future.
We're looking forward to you joining the Small Robot revolution!