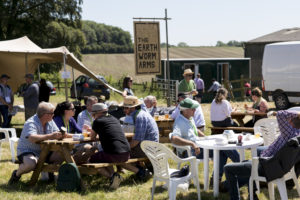 Join the Evening Pasture-Fed Open Fire Beef Roast at the Earthworm Arms from 6pm on Wednesday 26th June at Groundswell.
This is a collaboration between the famous open fire chef Richard Wedlake from Devon and Luppo Diepenbroek from Straight Line Nutrition. The PFLA certified beef is marinated in stout, rum and cherry brandy before being slow roasted on a spit and served in a wholemeal bun. Accompanied with new season potatoes, coleslaw and a range of salads, this feast will be a hearty treat washed down with a local real ale from the Earthworm Arms Bar.
Meat proudly supplied from Boyd Farms Cotswold Beef and Deersbrook Farm Butchery & Farm Shop
Don't miss the evening's light-hearted entertainment: a session on "The Courage to Change" with Ruby Wax in conversation in the Conference Barn at 7pm.
The cost of the meal is £15 and tokens can be purchased from the Straight Line Nutrition Stand. Food will be served from 6pm to 7.30pm and the bar is open till late!