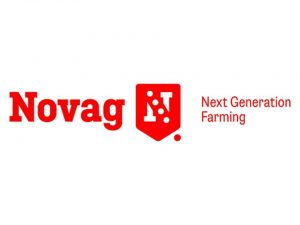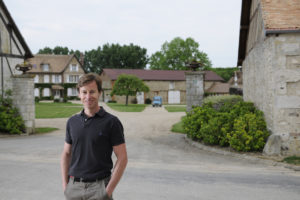 Antoine Bertin, 36 No till Farmer in Normandy, and co-founder of Novag
1. In a nutshell, what makes your company stand out from the crowd when it comes to Direct Drill machinery?
In general our drills are the best option to create healthy soils and healthy profits. In particular it's the slot shape.  Our inverted T brings real solutions on the table to solve hairpinning issues when seeding under dense straw cover and improve fertilizer placement. Our drills handle residues like no other no tillage drill on the market, and their openers are strong and easy to adjust. The IntelliForcePlus system on the T-ForcePlus drills controls seeding depth and the downforce is automatically adjusted according to the soil resistance. Once you have tried this system, it seems impossible to go back.
2. What product innovation has your company got in the pipeline – any innovations that you're keen to show us this year?
We learn by working with farmers from new countries every year. Every soil has a different history and respond differently to Novag no tillage. So, we constantly improve our openers and machines. This year, we have released new press wheel solutions for softer soils, and on the other hand, for tougher soils, we gave our already long-lasting blades extra lifetime by optimizing their carbide alloy.
For farmers using organic fertilizer and compost, we are glad to announce that an integrated liquid compost applicator is coming soon! The product will be metered and injected directly into the slots.  Another, big addition to our development, is the upgrade of our electronic system telematic options, to improve the quality and the reactivity of our service performed by our dealers and by the factory.
3. The overarching theme for this year's Groundswell Show is 'Soil Health'; what does your machinery offer to a farmer trying to prioritize his/her farm's soil health?
With a Novag drill you're not only investing in the world's most innovative no-tillage drill. You're healing your soils for a successful next generation's farming.
The Novag system involves virtually zero soil movement, the end of superficial soil preparation, and cut down fertilizer and chemicals rate. The soil microbiology is spared, the soil remains healthy.
And that is the key: Novag drills are the way to get a self-healing microbiology working in your soils. Cut your costs and working hours and let the worms, fungi and bacteria do the job for you. By the way you help restoring thriving ecosystems.
We could also speak about economic health. By promoting a high yield no tillage system, we can restore high profitability to the farm. And, lastly, there is the farmer's personal health with less tractor hours. Also, it is worth mentioning that no tillage can be a cause of worry for newly converted farmers. The seeding quality out of a Novag drill helps to mitigate the risks and buys more peace of mind. We can use the time we save to work on other exiting projects, or to spend more time with our family. This choice is up to the farmer!
4. Tell us a little bit more about the company – origins, size and location? How and why are you committing to manufacturing No-Till drills?
As a farmer I have always been looking for a better way to take care of my soils. Before taking over my father's farm, I traveled to a few countries overseas where I had some great experience. I worked in farms in Canada, Australia and it's during one work trip to New Zealand that I first met Ramzi, my associate. We will become the two founders of Novag. Shortly after that, I bought for my farm a second hand no tillage drill from New Zealand, the first of its kind for France. I saw the benefits of the no till system in my farm.
I commit to manufacturing no tillage drills because I want to share this system with other farmers, and I because want to put an end to the madness of soil-destroying tillage!
At the beginning of our story, Ramzi and I started to work with a drill manufacturer from New Zealand, to source openers for the first complete machines we designed. We quickly found out that this partnership was not working because it was too restrictive and prevented us to develop the technology further. We then decided to invest a great deal of our time and money and found local partners to create new openers, of our unique design. This is how Novag was born.
Today our company's headquarters, the R&D and the manufacturing are in the west of France, in the town of Fressines.  On my farm, not far from Paris, we perform field tests and test all our innovations. Our team is still small but all of us are driven by a strong motivation to improve the health of soils and people. And we work hard!
5. Finally; what are your team looking forward to seeing at this year's Groundswell Show?
This year's Groundswell show will be an important event in the history of Novag because it will be the first time a Novag machine is brought to the UK.  So of course, our focus will be to understand the expectations of our British neighbors… We are also hoping this event will be an opportunity to meet potential service partners and any people who would like to join the Novag team on our way to healthy soils.