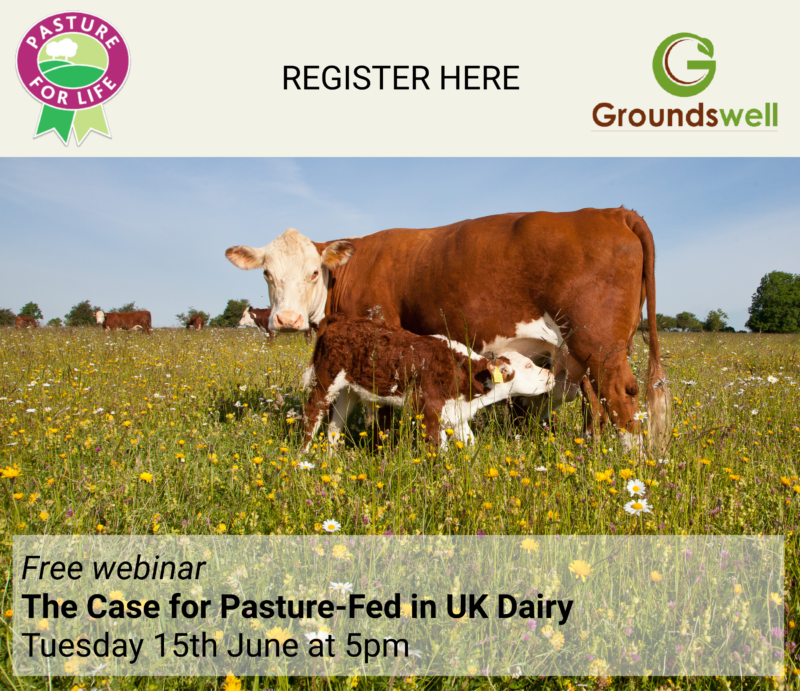 Join the Pasture-Fed Livestock Association and Groundswell for the first of two sessions looking at the case for regenerative, pasture-fed dairy farming.
In this first session (webinar), we look at the evidence supporting the move to these practices from an environmental, animal welfare and human nutrition perspective. We also hear about the growing market opportunity for products from these systems.
Becky Willson from Farm Carbon Toolkit will go through the emissions data they have from dairy farms that have participated in their project. Hannah Davis from the University of Newcastle will highlight the positive effect that forage diets, particularly those with high diversity, have on the nutritional composition of milk. Mike Tame of the PFLA Standards Committee will discuss the effects of different feeds on the rumen, showing that pasture-based is best for the health of the animal. Finally, Bronwen Percival of Neal's Yard Dairy, will discuss the market opportunities for pasture-fed milk and cheese.
The second session will be at Groundswell itself on Thursday 24th at 9am and focus on four dairy producers and their individual approaches to these issues. We will hear from 100% pasture-fed farmers Jonny Rider of Horton House in Wiltshire and Angus Dalton of Dalton's Dairy in Staffordshire, as well as Nuffield Scholar and organic farmer Dan Burdett of Cockhaise Farm in Sussex, and Nicholas Millard of Westcombe Dairy in Somerset.
These sessions will be chaired by Jimmy Woodrow, Executive Director of the Pasture-Fed Livestock Association.