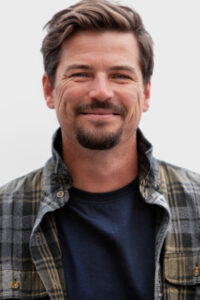 Groundswell is delighted to welcome Richard Perkins to the stage at Groundswell this year. He will be giving a keynote presentation on Wednesday 28th and on Thursday 29th he will be doing advanced 90 minute sessions on No-Dig Market Gardening and Pastured Poultry Profits.
Garnering more than 14 million views on his blog, having over 160,000 subscribers on Youtube and teaching thousands through his live trainings and online courses, Richard Perkins has inspired farmers all over the globe with his pragmatic no-nonsense approach to profitable system design.
A recognised leader in the field of regenerative agriculture, he is the owner of Europe's foremost example, Ridgedale Farm, which has become a world-renowned educational hub, was the subject of the documentary Gracie's Backyard and grossed more than €250,000 in a short 6-month season producing on less than 3 hectares.
He is also the author of the widely acclaimed manual Regenerative Agriculture, which was declared "a must on every aspiring farmer's bookshelf" by the world's best-known farmer, Joel Salatin, and generated €380,000 in pre-sales alone. His latest book is Ridgedale Farm Builds.
Richard advocates small-scale, diversified farming and mainly uses Permaculture Design, Holistic Management and Keyline Design. His approach to no-dig market gardening and pastured poultry
production has been emulated by thousands of people in all corners of the globe and many of his students have started their own successful farming businesses.
He has worked professionally in every major climate zone across several continents consulting to projects, farms and industry, and is now focused on managing Ridgedale and educating a new generation of farmers who want to restore soils and feed their local communities whilst making a good living from it.