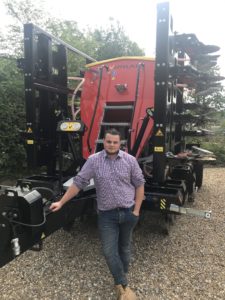 Groundswell welcomes the Virkar Dynamic Drill to demo at Groundswell for the first time this year….
1. In a nutshell, what makes your company stand out from the crowd when it comes to Direct Drill machinery?
Virkar has developed a drill with many unique features not seen on other no till drills. These features include:
– Hydraulically pressured cutting disc working independently to the seeding boot.
– Each drilling element has up to 30cm of travel meaning even seed depth is achieved across the whole drill regardless of terrain.
– Easy setup of seed depth and being able to adjust coulter pressure from the cab on the move.
– Rear axle steering means it's very manoeuvrable and no crabbing on hills.
– Very low disturbance and can choose between 19cm or 25cm row spacings.
2. What product innovation has your company got in the pipeline – any innovations that you're keen to show us this year?
Virkar are currently developing a Direct Disc Drill and a Direct Seeding Precision Drill.
3. The overarching theme for this year's Groundswell Show is 'Soil Health'; what does your machinery offer to a farmer trying to prioritize his/her farm's soil health?
Virkar was set up in 2010 by three young entrepreneurs: an engineer, a mechanic and a farmer. We were looking for a no-tillage machine that was superior to the most prestigious machines on the market. Capable of offering high yield that no other machine can match right now, and able to meet the highest expectations and requirements in the sowing process. Virkar wishes to listen to farmers and at the same time provide a modern and technological outlook, thanks to its multidisciplinary team, to create high quality and reliable machines whilst keeping them easy to handle with a high degree of innovation.
4. Tell us a little bit more about the company – origins, size and location? How and why are you committing to manufacturing No-Till drills?
The Virkar Dynamic drill allows the farmer to establish his crops at reduced costs, reduced soil movement and keep their soils healthier due to keeping carbon locked into the soil. Due to the drill having very low disturbance this improves soil structure and it can deal with a high concentration of green cover crops. This means the farmer can build his organic matter up in his soils and still farm in a no till system.
5. Finally; what are your team looking forward to seeing at this year's Groundswell Show?
We are looking forward to being at an event specialising in the machines we promote and being able to showcase these machines to farmers that are keen to go down the no till route. Also looking forward to listening to some of the speakers you have doing talks especially Allan Savory as we have been a follower of his for many years.