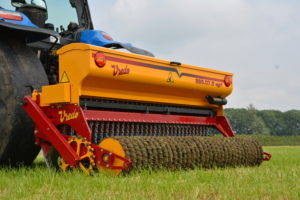 JC Machinery will be exhibiting at the 2021 Groundswell event and showcasing the Vredo range of overseeders.
The Vredo Agri Twin and Air Series are renowned for their innovative grass land overseeding, but the addition of the award winning Crop Drill System (CDS) has made it a market first.
Now equipped with the CDS, the machines are able to sow arable crops directly on corn stubble without any tillage at a 15cm row distance, whilst keeping the well-known grass land overseeding features and 96% germination rate.
Because of this it is the only machine capable of overseeding on grass and arable land, and since the system works through slitting instead of cultivating, less machine power is needed, saving on fuel costs.
The base of the machine remains a pair of slicing disks with an inter-row distance of 7.5cm. But, to sow arable crops deeper, every second pair of discs can be pulled higher using hydraulics, creating a sowing distance of 15cm.
The soil is not disturbed, maintains its strength and keeps the organic matter in the top layer, giving healthier crops using less chemicals and fertilizers.
The seed distributors can quickly be diverted from ten to five exits to work with the pulled-up elements of the Seeder. This works with Vredo's own pneumatic seed hopper, which can distribute very fine seed, or very large seed evenly.
The working width of the models ranges from 2.5 meters to 5.8 meters, ensuring there is a suitable model for every situation.
Ultimately this is a multi-functional machine that makes no compromises. It can operate all year round, doesn't disturb the soil and creates healthier crops whilst giving more machine hours per unit.
Having the ability to carry out professional grassland and arable land management with one unit gives an unrivalled level of functionality to user, making the new Vredo Agri Air and Agri Twin Series the most efficient on the market.