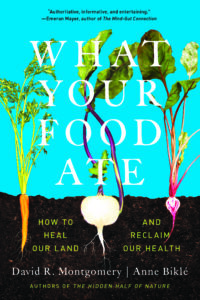 We are delighted to welcome Anne Biklé back to the Groundswell stage, and to provide a 25% discount on her latest book, What Your Food Ate.
The long-running partnerships through which crops and soil life nourish one another suffuse plant and animal foods in the human diet with an array of compounds and nutrients our bodies need to protect us from pathogens and chronic ailments. Unfortunately, conventional agricultural practices unravel these vital partnerships and thereby undercut our well-being. Can farmers produce enough nutrient-dense food to feed us all? Can we have quality and quantity?
With their trademark thoroughness and knack for integrating information across numerous scientific fields, Montgomery and Biklé chart the way forward. Navigating discoveries and epiphanies about the world beneath our feet, they reveal why regenerative farming practices hold the key to healing sick soil and untapped potential for improving human health.
What Your Food Ate is a must-read for farmers, eaters, chefs, doctors, and anyone concerned with reversing the modern epidemic of chronic diseases and mitigating climate change.
To order What Your Food Ate at a special member discount of 25% discount and free shipping please click here and add the code WN869 when prompted at the checkout. The offer is valid until 20th June ONLY. 
Anne Biklé will be giving a keynote presentation themed around the book on Wednesday 28th at midday and on Thursday 29th at 13:00 will be in conversation with Zach Bush – two sessions not to be missed!