by Sam Watson Jones, co-founder, Small Robot Company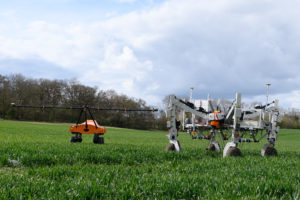 Introducing Tom, our first commercial robot. A big landmark for our small robots: we've now delivered Tom to commercial specification.  A monitoring robot for Per Plant Farming, he's now entering service on UK farms, ready for ramp up of the service to more than 100 farms in 2023. Customers include the Lockerley Estate, where robots are a key part of its regenerative farming strategy, as well as Waitrose & Partners and the National Trust.
Come and see Tom in action on our stand  – our first public robotics showcase, exclusively at Groundswell.
Tom will cover 20 hectares per day autonomously, collecting about 6 terabytes of data in an 8 hour shift, and detecting millions of data points per field. So for example, Tom collected 12.7 million plants in a single 6 hectare field, of which 250,000 were identified as weeds. He can distinguish plant details at submillimetre resolution. In future, Tom will also gather data from multiple sources, such as sensors and microphones for birdsong and pollinators, to assess soil health and biodiversity.
Today what Tom's delivering is a mapping service. With this we're looking to make yield predictions, measurement of herbicide efficacy, and giving farmers the ability to take "no spray" decisions with confidence. We've also just started a project to be able to detect disease in wheat.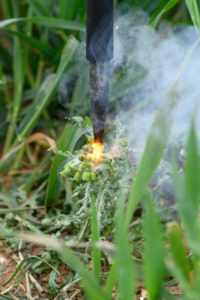 We're also currently conducting a pilot with Tom robot taking soil samples to assess and measure soil health. Robotic monitoring could provide accurate, repeatable carbon measurement at farm scale. This could be transformational in providing accurate carbon sequestration measurement to support UK farming's transition to Net Zero by 2040.
Our first service using Tom will be per plant weeding. A world-first, we demonstrated our new per plant weeding capabilities in technology demos at Lockerley in April. Working together, our Tom and Dick robots have now repeatedly identified weeds, and taken action to destroy them, with electrical 'lightning strikes', using no chemicals.
This is a major milestone in our mission to transform farming, both technologically and commercially. With up to 95% of chemicals wasted in the current farming system, this new non-chemical weeding technology will be significantly more nature-friendly and better for biodiversity. Importantly, farmers can decide which weeds to treat – and  which to leave untouched. Wilma, our artificial intelligence Advice Engine, devises a weed treatment plan at a threshold set by the farmer. We're starting on-farm pilots of the service this autumn.
The milestone we've hit is Per Plant Action – essentially, that we can now take action at the plant level. Using artificial intelligence and on board computer vision our robots can detect weeds in real time, and target the robotic arm onto those weeds. At that point we can do anything we want. We could have many different technologies bolted on – and the world's our oyster on that.
Come and see us on our stand to meet Tom, and find out more!